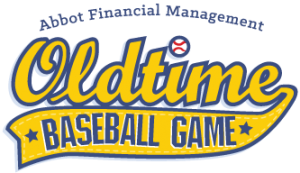 We are proud to be one of the sponsors for the Abbot Financial Management Oldtime Baseball Game, coming up in  in just 10 days, at St. Peters field in North Camebridge, Mass ,by Harvard Square.
Free Admission
Thursday, August 27, 2015
We will be raising money to endow the William Dummy Hoy Scholarship benefiting deaf children from Boston attending RIT/NTID.
This event in Boston is headed up by Steve Buckley , sports columnist for the Boston Herald, and author of Wicked Good Year. We will also be leading a campaign to get Dummy Hoy inducted to the baseball hall of fame.
At the game, we hope they'll be playing clips from the movie between innings, and copies of our DVD will be given out to people that donate $15.
Here's a video about the game…
At the game, these are the postcards that will be distributed to the fans…