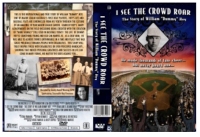 This documentary film will inspire anyone, young or old, either with or without a challenge or disability to overcome, or whether they are a baseball fan or not.
William "Dummy" Hoy not only beat the odds of being a deaf person who was unable to speak and playing in the Major Leagues, but compared to the other ballplayers of the era, he was short in stature and light-weight too!  Yet he overcame hurdles to become an elite Major League outfielder.
Each DVD is shipped in its own full size durable plastic DVD Case.
Single units are $15.95 + $3.25 shipping & handling
Quantity discounts are available
Special pricing available for nonprofit organizations and fundraising.
Call Paul Hendison by phone at 323-876-8496 or by Email paul@hendison.com or Joe Roetheli by phone at 816-994-8428 or by email joe@lilredfoundation.org for more information.
We're sorry, but we are unable to ship out of the U.S. at this time.

We also have the film at iTtunes and at Amazon

Amazon, and may soon offer streaming media too…